Our Process
Supporting Your Storage Needs – Every Step of the Way
Start-to-Finish Support
Datum provides start-to-finish support, including designing, specifying, and installing your complete storage solution. We are committed to helping businesses and operations of a wide range of industries to better organize, store, and secure their critical inventory. If you're ready to maximize efficiency for your operation, check out our process below, and contact us today to get the conversation started!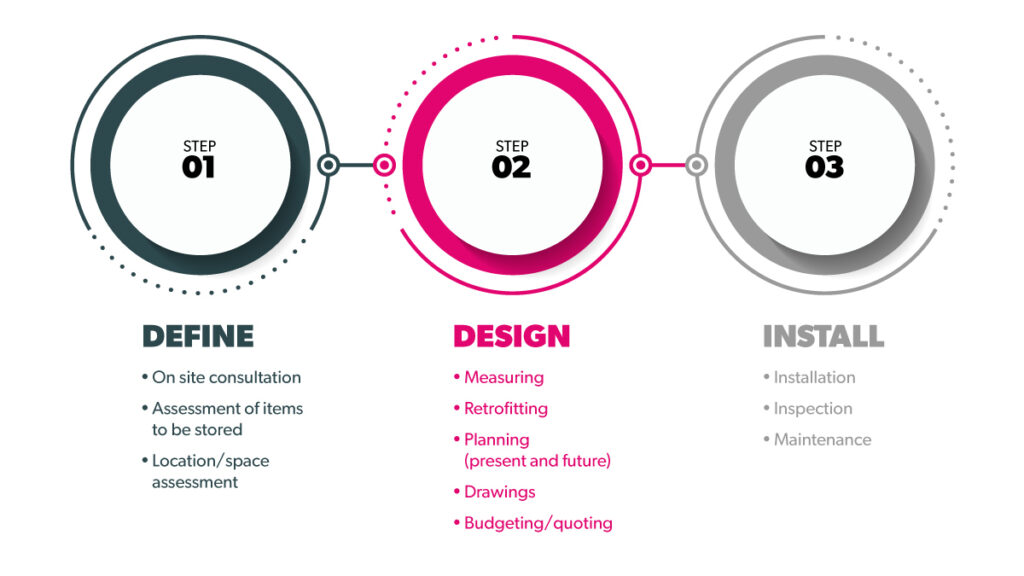 Define
If you're seeking a new customized high-density storage solution, our storage experts will first arrange for an on-site consultation to determine your unique needs. We will assess the items or critical inventory to be stored, and we will work with you to determine the best location and space for your particular application.
Design
Our design services, in conjunction with our local dealers, include measuring your existing space, adding new features to your current storage systems, and planning for both your present and future high-density storage needs. We also provide easy-to-understand drawings and transparent quotes to ensure we adhere to your budget.
Install
Finally, our storage experts can complete the installation according to the design and budget we previously agreed upon. This step includes not only the installation but also the inspection of the finished product as well as any follow-up maintenance that you might require down the road.
To learn more about our industry-leading high-density storage solutions, contact us today. Our experts are standing by to answer your questions and help in any way we can. We look forward to hearing from you!